Accommodation, Campings in Poitou Charentes
Camping

To choose the camping, it is to be certain to share a moment close to the nature. You will have the choice between the tent for the most rash, the caravan for the accustomed and the bungalow or the mobil-home for those who wish more comfort. The charm of the camping, it is all above the meetings, the cheerfulness of the vacationers and all the good memories in the future.
Register your touristic spot in Poitou Charentes it's free (in French)
Thierry GUIGNARD
RD 735
17630 La Flotte (Charente-Maritime)
Phone : 02 51 33 17 00
- Fax : 02 51 33 17 27
In a wooded area, you'll enjoy upscale: mobile homes lately, pool area, playground, ping-pong, animations, mini-club ...
And all this, 800m from the beach.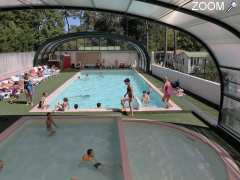 Low season of 294€ to 460€

Average season of 435€ to 858€

High season of 553€ to 1050€

Daily rate low season of 15.17 to 19.38 €
Bourven Deschamps Gildas
16 av Cote de Beauté
17390 La Tremblade (Charente-Maritime)
Phone : 05 46 36 07 75
- Fax : 05 46 36 50 77
Want to the Sun and the sea, we are the ideal campsite. ACTIV LOISIRS Les PINS camping is located in Ronce Les Bains on the commune of LA TREMBLADE.
Feel free to come join us on our website, we offer ...

Barry & Carole Goddard
1 Impasse de la Grange au Maire
79190 La Chapelle-Pouilloux (Deux-Sèvres)
We are a small family run camping and caravan site in the south of the Deux Sevres region which has on average around 2400 hours of sunshine every year! Second only to Provence and the Côte d'Azur! ...

Register your touristic spot in Poitou Charentes it's free (in French)