Accommodation, Campings en Charente
Add to my travel notebook
Register your touristic spot en Charente it's free (in French)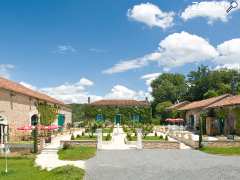 TVORG-729171
Update informations
Disponibilités
PETIT Jacques
Le Chambon
16220 Eymouthiers (Charente)
Phone : 05 45 70 71 70
- Fax : 05 45 70 80 02

http://www.info@camping-gorgesduchambon.com
Living with Nature.
We don't look upon Nature as a consumer product, packaged and marketed and sterile.
You live with Nature here.
When you take a bit of time off to look, you can find all sorts of discoveries every day.
Take a walk at your own pace and stop, look and listen to your surroundings.
Ride a bike along the footpaths and rediscover the pleasures of reaching the top of that hill then pausing to take in the view.
Take time off and make the most of your free time; take in the sounds and smells and colours of Nature all around you.
Follow the river downstream and watch the kingfishers and other wildlife at the water's edge.
Discover the tastes and smells, pick blackberries from the hedgerows and admire the perfumes of the wild flowers.
The National Park of the Péridord Limousin offers numerous visits and has many protected sites.
You can find a wide range of nature activities to do here.
It's now up to you to enjoy them.
Register your touristic spot en Charente it's free (in French)