Heritage, visit, Castle, Fort en Charente-Maritime
Add to my travel notebook
Register your touristic spot en Charente-Maritime it's free (in French)
See accommodation nearby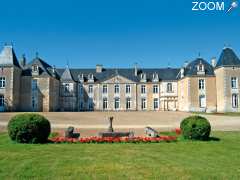 TVORG-834871
Update informations





Disponibilités
Fougerit
3 Domaine de Panloy 17350 Port d'Envaux
17350 Port-d'Envaux (Charente-Maritime)

http://www.panloy.com
https://www.facebook.com/chateaudepanloy/
Located in Charente Maritime, between Saintes and La Rochelle, in the very pretty village of Port of Envaux, the Château de Panloy class historical monument, welcomes you every day for tours, hikes along the nature trail and many activated for the family.

Anatole, our mascot, will accompany your children through fun to do with parents games: a treasure hunt in the corridors of the Castle, a treasure hunt in the Park as well as an educational game on the theme of nature and the environment. Strolling through the Park, you will also meet the animals of Panloy: donkeys, goats, ponies, horses.

The Castle you opens the doors of its 2 large rooms for romantic and unusual weekend and assists you in organizing your receptions, weddings and birthdays in a great setting facing the Charente. Save the date! Many activities for children and adults are held to punctuate the season: historical reenactment, opera outdoor with Sites in Scene, visits costume, haunted nights and lots of other surprises await you at Panloy.
Register your touristic spot en Charente-Maritime it's free (in French)