Accommodation, Holidays residences en Charente-Maritime
Add to my travel notebook
Register your touristic spot en Charente-Maritime it's free (in French)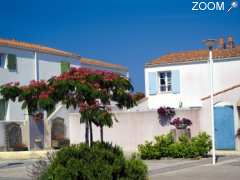 TVORG-6143
Update informations







Disponibilités
Hôtel Résidence Les Hauts de Cocraud
Route de Saint Martin
17630 La Flotte (Charente-Maritime)

http://qua.etr.im/1251
The residential complex is a tasteful group of little semi-detached houses, designed in accordance with the island's architecture, situated 100 m from the sea and 1 km from the shops and the marina of La Flotte en Ré.
All the bedrooms and suites are fully equipped: kitchenette (dish washer, mini oven), bathroom or shower, free television, fireplace in the suites, loggia or terrace for the bedrooms and courtyard or private garden for the suites.
The following are at your disposal: outdoor, heated swimming pool, open from mid-May to the end of September, bicycle shed, table-tennis, bowling area, children's playground, launderette (with fee) and covered car park( with fee)
Outdoor municipal car park.
It is advisable to have a car.
Register your touristic spot en Charente-Maritime it's free (in French)