Accommodation, Hotels dans la Vienne
Add to my travel notebook
Register your touristic spot dans la Vienne it's free (in French)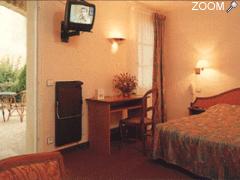 TVORG-1654
Update informations




Disponibilités
Tricot Christophe
12, Grand'Rue
86370 Vivonne (Vienne)

http://www.hotel-st-georges.com
Vivonne is a quiet village in the Poitevin region which has the peaceful waters of three streams flowing through it : the Palais, the Vonne and the Clain. On the main street (Grand'Pue) which leads to the centre of Vivonne, stands an establishment more than two centuries old. Renovated with great character,
it now invites you to, savour the delightful,
relaxed lifestyle of Poitou.
Register your touristic spot dans la Vienne it's free (in French)