Accommodation, Self catering en Charente-Maritime
Add to my travel notebook
Register your touristic spot en Charente-Maritime it's free (in French)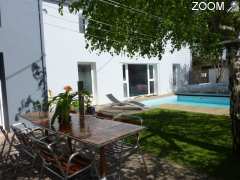 TVORG-10360
Update informations




Disponibilités
Aubineau Quitterie
6 chemin de l'Ardillon
17540 Vérines (Charente-Maritime)

http://www.lespasseroses.com
Quitterie and Serge are pleased to welcome you in their house. It is located in the province Charente-Maritime (French west coast) 15 minutes away from La Rochelle.
The Passeroses (hollyhock) are typical local flowers. During your stay you will find them everywhere growing along the natural stone walls.
Now we invite you to discover our house with its three guest bedrooms.
In a typical dwelling of this area our architect has created spacious, well lit and modern bedrooms to make you instandly feel comfortable in this house and also to ensure a friendly relationsship between you, our other guests and ourselves.
We wish you a pleasant attendance on our website and look forward to seeing you soon.
Our Bed & Breakfast is approved by the organisation of les Gîtes de France and has received as sign of its quality three epis.
Register your touristic spot en Charente-Maritime it's free (in French)