Accommodation, Hotels restaurants en Charente-Maritime
Add to my travel notebook
Register your touristic spot en Charente-Maritime it's free (in French)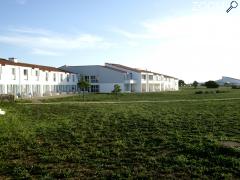 TVORG-3337
Update informations
Disponibilités
Gilles Tatu
Rue Port-Notre-Dame
17740 Sainte-Marie-de-Ré (Charente-Maritime)
Phone : 05 40 30 22 44
- Fax : 05 46 30 13 49

http://www.thalasso.net/
The famous thalassotherapy centre and Atalante 3-star hotel are set in this unique and wonderfully preserved site, facing due south and with direct access to the sea...

The centre, which has Qualicert certification and is linked to the hotel by an underground tunnel, offers a range of 7 Well-being Holidays, as well as weekend packages that you thought you could only dream of! You will enjoy all the benefits of a centre which offers one-level access, and which has a number of cabins with breathtaking ocean views! Why not also enjoy our à la carte treatments, or come for the day… Not to mention our range of wonderful massages.
As for the Atalante 3-star hotel, all the bedrooms have been fully renovated. Not only are they very spacious, but they lack nothing in comfort… The bonus: views over the ocean from many bedrooms. You will also enjoy the Atalante's renowned cuisine – a restaurant that combines dietetics with gastronomy.
Register your touristic spot en Charente-Maritime it's free (in French)