Alloggiamenti, affitti , Camere in famiglia dans les Deux-Sèvres
Guest house

Practical and friendly, here is what summarizes the formula of guest houses. Whom you are only or in family, come to spend one or several nights at the inhabitant. It is as a friend that you will be welcomed by the host and the hostess who can make you discover the local specialities during the meals which will be proposed to you.
Iscrivere il vostro punto turistico dans les Deux-Sèvres é gratuito
BLANCHARD
40 chemin de la Minée - Breilbon
79220 Germond-Rouvre (Deux-Sèvres)
Tel : 05 49 04 05 01
- Cellulare : 06 87 41 06 60

Annie & Bruno
140 rue Saint-Louis
79270 Vallans (Deux-Sèvres)
Tel : 05 49 04 86 75
- Fax : 05 49 32 85 05
Top first-class bed and breakfast in a typical, fully restored country-house near the famous Venise Verte, at forty min. from La Rochelle. Restful atmosphere . Tasty local dinners on reservation.

Dianne Franklin
40 Rue St Eloi
79440 Courlay (Deux-Sèvres)
Our farmhouse has been tastefully adapted whilst still retaining many of its original features such as exposed beams. We pride ourselves in offering personal attention at all times to ensure our ...

Patricia Horsenail
2 rue Jean Gardot, L'Angevinière, 79120, MESSÉ
79120 Messé (Deux-Sèvres)

CACCINOLO-MERON
32 rue de la laiterie
79800 La Mothe-Saint-Héray (Deux-Sèvres)
Tel : 05 49 25 86 82
- Fax : 05 49 25 86 82
- Cellulare : 06 60 90 92 26
Entre Marais Poitevins et Futuros- cope, Anne-Marie et Fabrice vous accueillent sur le domaine de La Fée Mélusine, baroque, romantique
et coloré.
Vous dormirez dans la Suite familia le "Marilyn" ...

Annie BAILLARGEAU
COUBORTIGES
79500 Pouffonds (Deux-Sèvres)
Come and recharge your batteries in the hearth of Poitou-Charentes.Take your ease in welcoming and surroundings, in a traditional country house beautiful restored in anthentic style.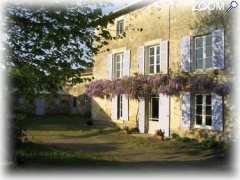 Jean Pierre Ancot
La Villedé
79800 La Mothe-Saint-Héray (Deux-Sèvres) Maria Newman
La Bouchonnerie, Paizay le tort,
79500 Melle (Deux-Sèvres)
18th century farmhouse b/b. Swimming pool. In river valley village encompassed by 3 chateaux. Open all year. Central heated. Near to Poitiers and La Rochelle.

Iscrivere il vostro punto turistico dans les Deux-Sèvres é gratuito