Te bezoeken erfgoed, Kastelen, monumenten en Charente-Maritime
Toevoegen aan mijn lijst
Schrijf hier gratis uw toeristische punt in en Charente-Maritime in
Accommodatie in de buurt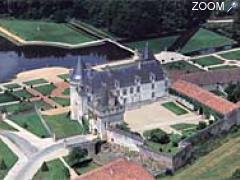 TVORG-278
Bewerk de pagina
Disponibilités
17250 Saint-Porchaire (Charente-Maritime)
This 15th century castle, hugely altered in the 17th century, can be found in Saint-Porchaire, 16 km north of Saintes. It was primarily built by Jehan II de Latour in 1475, who wanted a defensive castle. He therefore erected it in the middle of a swamp, and gave it a triangular shape.

The name of La Roche Courbon first appeared in the 17th century. Jean-Louis de Courbon, owner of the castle, transformed it and surrounded it with wonderful French gardens ("à la française"). He had tall windows pierced, and added a double staircase (horseshoe shaped) to go to the gardens, as well as balustrated terraces.

It is not until the 18th century that new works will be undertaken by Sophie-Jacques de Courbon Blenac, who added a stone staircase inside the castle and iron-wrought fences in the gardens.

Afterwards the castle was more or less forgotten. But in 1908, the writer Pierre Loti called for someone to save the castle in an article in Le Figaro newspaper (he called it "The Sleeping Beauty castle"). One of his Friends, Paul Chenereau, bought it in 1920 an spent his entire fortune to bring it back to life. He also decorated it with a lot of typical furniture and objects from Charentes.

Today, the castle belongs to his children. They take good care of their patrimony, but they are faced with the damages entailed by the swamp swallowing everything slowly. They therefore have to use stakes topped by planks in order to prevent the masonry and the plants from crumbling into the earth.

You can visit the castle, and even rent some of its buildings for weddings or seminars.
Bekijk meer aanbiedingen ...
Schrijf hier gratis uw toeristische punt in en Charente-Maritime in