Heritage, visit, Local heritage dans la Vienne
Add to my travel notebook
Register your touristic spot dans la Vienne it's free (in French)
See accommodation nearby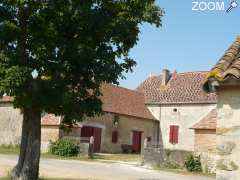 TVORG-7628
Update informations
entry of 4.5 to 10 €

Enter child of 0 to 3 €
Disponibilités
Site de Juillé
Juillé
86500 Saulgé (Vienne)
Phone : 05 49 91 02 32
- Fax : 05 49 91 09 83

http://www.ecomusee-montmorillonnais.org
Montmorillon Centre for the History of the Countryside and its People.

Unlocking the history of the landscape.

Situated in the midst of the Regions of Berry, Poitou and the Limousin, the 'Ecomusée' would like to welcome you to discover the history of the people and countryside of Montmorrillon.
Narrated by Martin, a farmworker of Juillé, along with a selection of landowners and workers of the past and consumers of today, you will discover, through their differing views and opinions, the evolution of the landscape, of the production of cereals and animal products and of the changes in our way of life over the centuries.
The Centre is set in the restored buildings of an old farm in Juillé, the history of which extends back 600 years, and which is itself a testimony to the development and use of the land of the Montmorillonnais.
Register your touristic spot dans la Vienne it's free (in French)